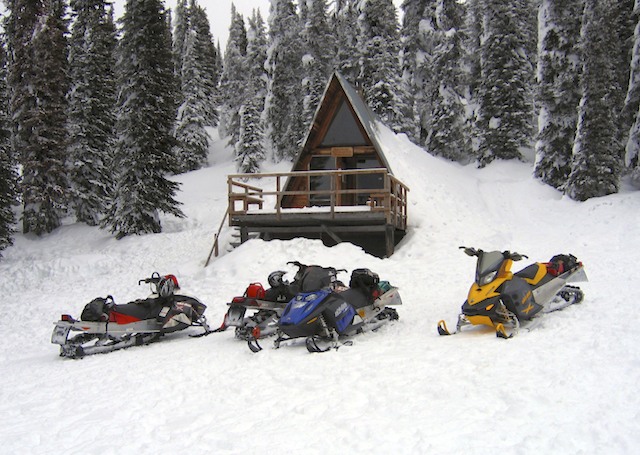 Queest Mountain Cabin – a Mountain right in Malakwa
Community Association Bylaws Project
As a result of 2016 project and administration transitions, we have begun the process of short term and long term planning of your Community Association.
In the short term, we plan to update our B.C. Societies Act bylaws.  Copies of the current constitution, last amended in 1995, are available at our public library during Thursday open hours.
Members of the Community Association are encouraged to read the Constitution and make suggestions about specific bylaws.  These will be discussed at monthly meetings, with changes voted on in March or April 2017.
Other short term priorities are demolition of the Community Hall and completion of the Centennial Park upgrades.
The key long term priority is to remain a viable and useful organization to Malakwa regional residents.  Your voice and energy are welcome in this process.
Astrida Knox, Secretary
Malakwa Wireless High Speed Internet
Transition from Okanagan.net to My BC Datacom
The new internet is up and running and people are receiving service from My BC Datacorp.  The transition hasn't been without some hiccups but the new service is very helpful and faster than the former connection to the internet.  There is still much to be done, but the technicians are able and handling each situation with courtesy and thoroughness.  We're sorry for any problems you have been experiencing with the transition  and hope things will level out soon.
The TV portion of the new service will not begin until November, 2016, but that is  reasonable considering all of the priorities that have to arranged on the mountains before the snow begins to fall.
One question that has come up that might be addressed here is about your e-mail.  (If you had and used a malakwa.ca email address.)   It is common for people to just change to a new email address such as Google Mail, Yahoo Mail or Hotmail, etc.  You can still go to Okanagan.net and retrieve your old email.  If you call Brad at Okanagan.net he can help you with that process.  If you wish to continue that service there will be a charge of about $5.00 per month payable to Okanagan.net.  Using Gmail, Yahoo or Hotmail  is suggested as the best method of getting your new email address.  If there is ever another change to the server, or if you move to another city or even another country, you can still receive your mail without any difficulty.
1 250 860 2699 – ask for Brad Muir.
Okanagan.net will also continue to host your webpage if you wish for about $7.00 per month.  You can call them about that service at the above number.
You can obtain new email addresses with My BC Datacorp upon your application to the new service.  They will help you set up if you desire.
Sorry for any difficulties you are experiencing with this change.  We sincerely hope that everything will be running smoothly very soon!
Lawrence Rae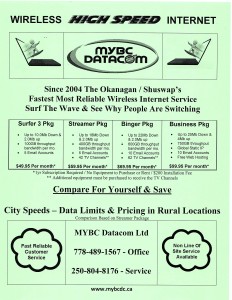 Yard Creek Campground
Created in 1956, Yard Creek Park is a popular roadside campground and day use area. It covers 60 hectares of beautiful forested upland, as well as a recently expanded area of 115 hectares of riparian habitat along the Eagle River. The park campground was closed in 2003, but is now open and being operated by the Malakwa Community Center Association on behalf of Columbia Shuswap Regional District. It offers 65 quiet, forest shaded RV and tent sites, trails and a popular day-use area with a log picnic shelter.
Just 15 kilometers east of Sicamous, along the Trans Canada Highway, Yard Creek is a great spot to use as a base camp for visiting the Sicamous and Shuswap Lake area. Due to its roadside location, Yard Creek Park is a haven for travelers from May to September. The park usually has vacancies during July and August and most long weekends.
The landscape surrounding Yard Creek Park is part of the lnterior Wetbelt characterized by cedar and hemlock forest and lush undergrowth. The park contains a variety of bird species including American dippers. These fascinating little birds dive into the icy waters of the creek and "fly" along under the water in search of water insects. Watch for them on the rocks along the creek.
Yard Creek Park is an independent campground run by the Malakwa Community Association. We have 65 quiet and treed sites. Sites – $20.00 per night. Firewood – $5.00 per bundle. No Hook Ups Potable Water. Pit Toilets. "True Camping Experience." Open until the last week of September.
No Reservations are needed. For more information contact 250-836-3814.
Yard Creek Campground will be closing for the season on Monday, October 3, 2016
Opening date for campers is Wednesday, May 17, 2017
Our rates are only $20 a night.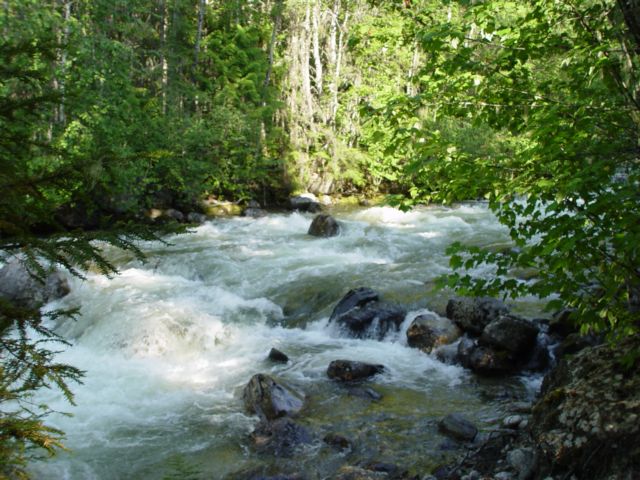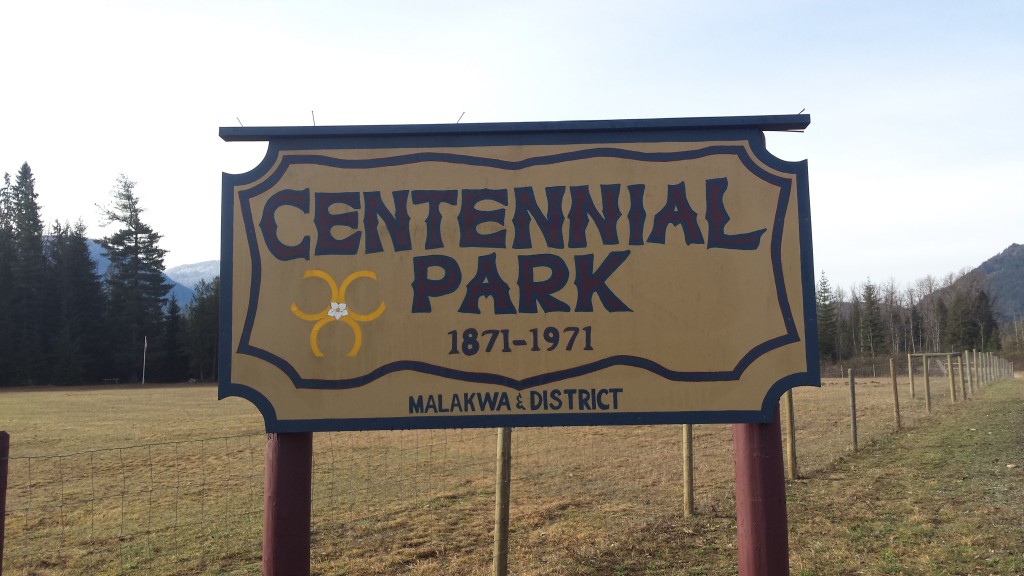 Malakwa Centennial Park
Fortunately some years ago the Community Centre Association decided to buy the former Carney Pole property to retain it as a playing field for Malakwa and the surrounding area. The CSRD was generous with us to provide a grant to purchase this 6 acre piece of land that adjoins the Malakwa Centennial Park owned by the Malakwa Farmers Institute.
The Malakwa Centennial Park has been undergoing many upgrades over the past several months. A permanent stage has been built and the kitchen/concession building has received a wiring upgrade. Lights have been added to the stage and concession building. The park was dedicated in 1971 and for many years was enjoyed by the community for baseball games, picnics and community gatherings. The park is available to community members for reunions, and social activities . It is anticipated that the park will be enjoyed by everyone in the community for many years to come.
Volunteers who initiated the Centennial Park restoration and upgrades in 2014 are concerned that work needs completing.  There are a variety of jobs to do.  Current priorities are installation of 3 large gates and basic carpentry on the unfinished outdoor stage.  As well, the stage itself needs to be waterproofed. If you have a few hours to spare please contact Dave @ (250) 836-2730 or Danny @ (250) 836-2854.
Malakwa Regional Library
Location: Malakwa Community Learning Centre – 3994 Malakwa Road
Open: Thursdays from 2 pm to 5 pm.
One time membership fee: Adults: $5.00 Children: $2.00
Everyone is welcome to come browse our library and borrow a book, video, or dvd.  We also have books available for sale.  Free Internet service is also available to our members.
(Our internet service was updated on November 28th, 2013 – and is now available for public use.)